Commissioner Funds Apna Ghar Minority Ethnic Women's Centre
12th June 2015
Northumbria Police and Crime Commissioner Vera Baird has given a cash boost to a South Tyneside community group through the Supporting Victims Fund.
The Apna Ghar Minority Ethnic Women's Centre, based on Ocean Road, South Shields, will benefit from £38,000 following an application to the Fund.
Commissioner Baird made the announcement the funding had been approved during the groups AGM at South Shields Town Hall on Thursday.
Apna Ghar aims to develop confidence in women and empower them to recognise their full potential while maintaining their cultural identity.
The funding will be used towards a pilot project focusing on young women within the BME communities in South Shields, aged 13 to 18, to raise awareness and tackle issues such as domestic abuse, hate crime, internet grooming and radicalisation.
'Time to talk' sessions for BME women will be arranged by development and outreach workers so they can feel confident to raise any sensitive issues informally and in private.
One outreach worker will work with young people specifically to help reduce social isolation and support integration into the wider society to prevent the development of mental health issues.
The intention is to develop a bespoke advocacy service in the future.
Commissioner Baird said: "I'm delighted to award funding to this very worthy group.
"As Police and Crime Commissioner for Northumbria, I'm passionate about working with our diverse communities and want to increase confidence amongst those in the minority to come forward to police or support agencies and seek help about issues they may face such as domestic abuse or hate crime.
"I know there is often a reluctance with women in the BME community about reporting such incidents due to the cultural pressures they face. This project aims to break down those barriers.
"It also looks to educate young people, through a dedicated worker, on the potential dangers of grooming via social media, or being influenced inappropriately by older members of their community.
"I'm confident the money will go a long way to making this pilot project a success and hope it lays the foundations for future worthwhile work within these communities."
The Supporting Victims Fund was set up to strengthen, enhance and improve victims' services across Northumbria.
The aim of the fund is to maximise the potential of organisations to deliver vital services supporting victims of crime in the Northumbria area, helping them to cope and recover from their experience.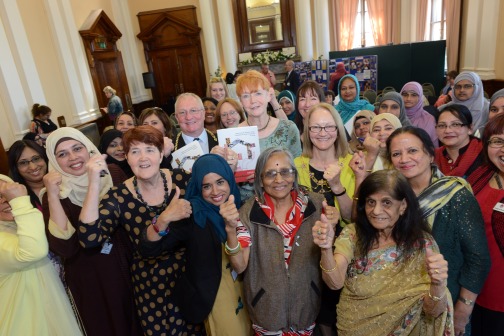 **Picture Courtesy of the Shields Gazette**