Commissioner launches new domestic abuse campaign for Northumbria
1st December 2015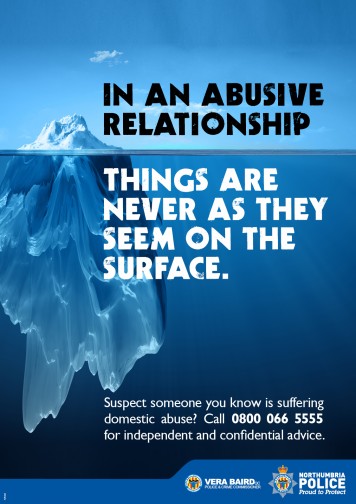 'In an abusive relationship, things are never as they seem on the surface' –  that's the important message behind the latest domestic abuse campaign, launched today by Police and Crime Commissioner, Vera Baird, with Northumbria Police.
The campaign, aims to raise awareness of all forms of abuse and to increase the confidence of people who suspect they know someone who is a victim, to come forward and seek help.
With Christmas around the corner, Northumbria Police and Crime Commissioner, Vera Baird, said it was important we recognise behaviours and look beneath the surface for certain character traits.
Commissioner Baird, said: "Domestic abuse is everyone's business and that's why this campaign is designed to speak to everyone – mums, brothers, friends, neighbours, the lady you see on the bus, the receptionist at work and so on. Anyone can be a victim of domestic abuse and anyone can spot the signs too if they realise what they are looking for.
"In light of the new coercive legislation expected to come into force later this month, the campaign also hopes to make people aware that an abusive relationship is about much more than a black eye or bruise on the face.
"Coercive control can happen in any demographic; it knows no boundaries. Overt jealousy, social isolation, controlling money, surveillance via phone – they're all examples of what can be going on beneath the surface of an abusive relationship. All are very hard to recognise too. Just because the abuser never hits you doesn't mean you're not a victim. To outsiders things can seem fine but beneath the surface things can be very different."
Coercive control is a strategy some people use to dominate their intimate partners and get their own way. It involves a range of non-violent behaviours – such as preventing the victim from seeing their friends and family, controlling their access to money and monitoring where they go – that are none-the-less backed up by the threat of physical violence and that allow the abuser to exercise a great deal of power over the victim on a day-to-day basis.
The new law will allow officers to investigate domestic abuse more thoroughly and help them to become more pro-active in identifying victims who are often too frightened and too controlled to speak out.
Detective Inspector, Deborah Alderson from Northumbria Police, said: "The domestic abuse offence will be the first time coercive and controlling behaviour is criminalised so it's vital we raise awareness and that the public realise there can be so much more than violence going on in an abusive relationship.
"Many victims remain behind closed doors with the power of coercive control keeping them silent. This has to change and help is here."
Independent and confidential advice is available on 0800 066 5555. In an emergency call 999.