Custody suite book donations welcomed by PCC Vera Baird QC and Northumbria Police
1st November 2016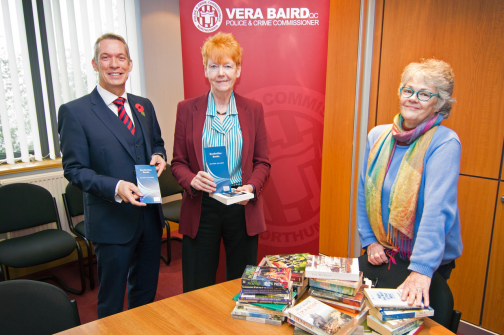 PCC Vera Baird QC and Northumbria Police have welcomed a donation of books for custody suites across the force area, thanks to a local charity.
Gateshead-based charity, Borderline Books, approached Vera Baird offering to donate some books to help make a positive impact on those caught up on the wrong side of the law.
The charity collects books from individuals, shops, libraries and publishers and then redistributes them to benefit others who find themselves in difficult situations.
Other organisations which have previously benefited from donations include Open Gate,  Women's Aid, Barnardo's and The Probation Service.
More than 200 books have been donated for use at local custody suites and detainees are able to take a book away free of charge, should they wish.
Vera Baird QC, who is also Chair of the Association of Police and Crime Commissioners, said: "If detainees have access to reading material as their case is being processed, then this can make a real difference. Being on your own in a room can at best be boring and  for some it's a daunting experience, particularly for youngsters who have landed in trouble, so providing them with a distraction in the form of a book can really alter a person's experience of custody and improve their state of mind."
Deputy Chief Constable Winton Keenen, said: "In some cases people can be detained for several hours with very little to occupy themselves – this simple gesture of offering a book can change that situation – it can help calm someone down and improve their engagement and behaviour. Northumbria Police is committed to the welfare of those within custody and we welcome this initiative from Borderline Books."
Amina Marix Evans from Borderline Books said: "We have been building contacts with some prisons in the North and wanted to be able to provide books for people in the first few hours of detention as well. We were very pleased that Ms Baird's office agreed so swiftly to putting books in the custody suites and we spent quite some time and care in selecting books that we hope people will enjoy – either just to pass the time, to cool off, or to learn something.  We will be more than happy to refill the bookshelves as the books are given away."
For more information, visit: www.borderlinebooks.org