New facilities at SafetyWorks! to promote key aspects of public safety
26th July 2016
A new community hub at SafetyWorks! designed to help tackle Child Sexual Exploitation (CSE) across Tyne and Wear is now open thanks to Police Innovation Funding secured by Northumbria Police and Crime Commissioner, Vera Baird.
SafetyWorks! is an interactive safety centre established and managed by Tyne and Wear Fire and Rescue Service, working in partnership with Northumbria Police and Crime Commissioner (PCC), Northumbria Police, Nexus, St John's Ambulance and Sainsbury's. It provides, realistic, interactive learning experiences for young people and community groups, to learn about the prevention of danger and how to live safely.
PCC Vera Baird today launched new and improved facilities throughout the centre, including a brand new area dedicated to educating young people about the dangers of CSE and how they can seek help.
CSE is a type of sexual abuse in which children are sexually exploited for money, power or status. It is often a hidden crime as young people often trust their abusers and they don't understand they are being abused.
The CSE facility is the first of its kind, and is set to become a centre of excellence for tackling CSE in the North East. It provides a place for young people to learn about internet safety, online grooming, 'sexting' and other potential risks posed by social media, in a comfortable and interactive setting.
Visitors to the centre can also benefit from a wide range of vital educational information about avoiding every day hazards such as road and fire safety and risk taking behaviour. Each section has been developed to display real life hazards in a realistic, interactive format. As a result of the additional funding, the centre now has an increased capacity to host more visits from schools and community groups throughout Northumbria.
Visits are arranged for a wide range of community groups and vulnerable people, including young people, older people, those with learning or physical disabilities and those with drug and alcohol problems.
Northumbria Police and Crime Commissioner, Vera Baird, said: "SafetyWorks! is an ideal venue for bringing realistic dangers to life and teaching children how to avoid them. I'm delighted to have secured this funding to enable the centre to be made even better – reflecting very real dangers that modern society unfortunately presents such as online grooming, CSE, and unhealthy relationships.
"Young people can be some of the most vulnerable in our communities and I am committed to ensuring through collaborative partner work, Northumbria Police is doing all it can to protect young people against these emerging risks. By creating the best environment possible with inspiring people and engaging activity packages we will really help make youngsters aware of dangers and importantly, what they can do to avoid them."
Tom Capeling, Chief Fire Officer, Tyne and Wear Fire and Rescue Service, said: "SafetyWorks! plays a vital role in promoting public understanding on a wide range of issues in a real life setting. Visitors experience a number of safety scenarios in realistic setting, including fire safety in the home, road safety and outdoor safety. It is great that this has now been extended to include further child safety and other community safety messages.
"We are also delighted to increase our capacity enabling more groups to visit the centre and vital community safety messages to reach a wider audience. We would like to thank all our partners for their ongoing support, and in particular PCC Vera Baird for the funding which has made the new additions to SafetyWorks! possible."
For more information about SafetyWorks!, please visit www.safetyworks.org.uk
For more advice in relation to CSE please visit www.northumbria.police.uk/cse
For more information on Tyne and Wear Fire and Rescue Service, please visit www.twfire.gov.uk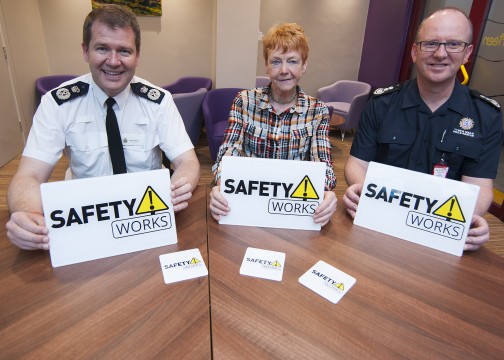 Pictured; at the SafetyWorks! event are left to right Chief Constable Steve Ashman, Northumbria Police and Crime Commissioner, Vera Baird and Tom Capeling, Chief Fire Officer, Tyne and Wear Fire and Rescue Service.