New partnership to tackle under-age drinking in Blyth
1st June 2016
A new partnership initiative is underway in Blyth to help tackle under-age drinking and warn young people about the dangers of alcohol.
The Blyth Community Alcohol Partnership (CAP) was launched on Friday, May 27, at the Council Chambers, Blyth Town Council. It brings together partners from Safer Northumberland, Northumbria Police, Office of the Police and Crime Commissioner, local retailers and licensees, councillors, health services, housing providers and schools to tackle the problem of underage drinking and associated anti-social behaviour.
In Blyth the aim of the CAP initiative is to address the problem of underage drinking though educating young people about the dangers of alcohol. The initiative places less emphasis on enforcement and more on education and support. All enforcement is community intelligence led, this approach is underpinned with effective enforcement activity to prevent under 18s being able to obtain alcohol whether buying it themselves or getting adults to buy it for them.
The partnership aims to protect young people and to make them aware of the risks to them of drinking alcohol how it can make them vulnerable to committing anti-social behaviour and also to becoming a victim of crime themselves, while drunk.
So far across the country nearly 100 CAPs have been set up and the Blyth CAP is the latest to come into effect.
Northumbria Police and Crime Commissioner, Vera Baird, said: "This activity demonstrates that our officers are listening to the concerns of local people and are working closely with partners to protect the vulnerable and tackle anti-social behaviour head on. The effects under-age drinking can have on individuals and local communities can be very damaging and I give my full backing this collaborative approach to bring about positive change for the residents of Blyth."
Sergeant Jonathan Bensley, from Blyth Neighbourhood Team said: "It's well known that youth disorder is fuelled by alcohol and underage drinking and it is this sort of behaviour that can causes concerns  for our communities. The CAP emphasises the importance of a long term commitment to educating young people and those adults who buy them alcohol. It also targets the issues around adults and alcohol including alcohol fuelled violent crime.
"Not only that drinking underage makes young people more vulnerable and could put them at an increased risk of being a victim of crime.
"We want to put a stop to this and by working together with other agencies to tackle underage drinking we can make our communities even safer.
"We want to reassure members of the public that we have listened to their concerns and have taken action in relation to their feedback.
"Working together along with partner agencies we believe this approach will bring positive benefits to the whole community."
The initiative is being coordinated under the Safer Northumberland partnership, with key input from Northumbria Police and the council's public protection service.
County Councillor Liz Simpson, Chair of Safer Northumberland, said: "This is a great example of how by pooling resources, agencies can take a more co-ordinated approach to tackling alcohol-related issues.
"As well as taking enforcement, it is important we educate and protect young people from the dangers of alcohol.
"This type of approach has already worked well in other areas and we look forward to similar success in Blyth."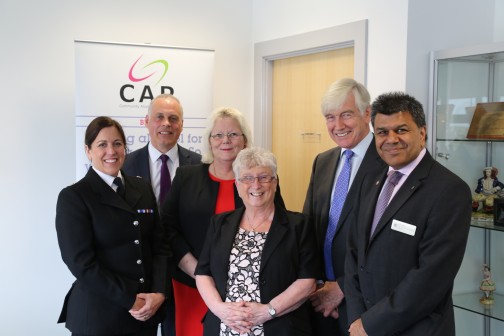 Pictured are left to right  T/Superintendent Nicola Musgrove, Alan Simpson (Community Alcohol Partnerships Officer), Councillor Liz Simpson, Councillor Kath Nisbet, Derek Lewis (Chair of Community Alcohol Partnerships), Nitin Shukla (Office of the Police & Crime Commissioner for Northumbria).