New police office officially opened by Dame Vera Baird
24th July 2017
Police and partners have welcomed the opening of a new police base in Newcastle's west end.
The new premises have been officially opened by Northumbria's Police and Crime Commissioner Dame Vera Baird QC.
Neighbourhood officers from Newcastle West moved into the base at Westgate Community College, on West Road, earlier this month.
Now Northumbria Police and Crime Commissioner, Dame Vera Baird QC, has officially opened the police office, in the traditional manner by cutting a ribbon.  She was joined by Chief Constable Steve Ashman and Central Area Commander Chief Superintendent Neil Hutchison along with a number of distinguished guests from the community.
Vera Baird said: " These new premises are in an ideal location based in the heart of the communities they police.  It's important to make sure the location of our neighbourhood bases are accessible to local people and that they are close to the communities they serve. All savings made from this move have been reinvested back in to policing."
Chief Constable Steve Ashman said: "This latest move by our neighbourhood teams will make a difference to our communities. It will also benefit our partners based at the college making our officers more accessible to residents, students and local business community alike.
"This new office provides us with an ideal location for neighbourhood officers policing the west end of Newcastle."
Local Neighbourhood Policing Teams can be contacted on 101, or via the Northumbria Police website, www.northumbria.police.uk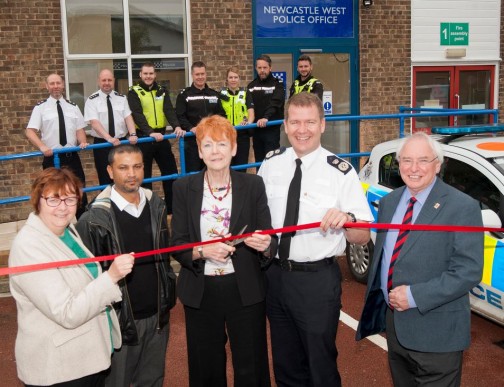 Pictured;  Northumbria Police and Crime Commissioner, Dame Vera Baird QC, Chief Constable Steve Ashman and invited guests at the official opening of the Newcastle West Police Office.