Northumbria PCC Kim McGuinness backs#ITSNOTOK campaign
25th November 2019
NEWCASTLE CHARITY TAKES A STAND AGAINST SEXUAL VIOLENCE WITH LAUNCH OF #ITSNOTOKAY MOVEMENT
YOUNG people's charity Streetwise is encouraging the region to take a stand and stop gender-based violence through its campaign #itsnotokay, launching in line with International Day for the Elimination of Violence Against Women on Monday 25 November 2019.
The 16 days of activism will run from Monday 25 November to Tuesday 10 December 2019 with the charity taking to the streets of Newcastle city centre on launch day asking the public to pledge their support to the campaign. Starting with '#itsnotokay', the public will be invited to share the things they feel should not be happening in our city, for example #itsnotokay to grope me, harass me, send me indecent images, with the aim to raise awareness of the ongoing issue. People are also encouraged to share their thoughts on social media to get people talking about a traditionally taboo subject.
#itsnotokay aims to promote the message that violence against women and girls is not okay. In 2018, Streetwise carried out a Sexual Violence Survey* with 174 female respondents. The survey revealed that 57 percent of young women said they had been groped or grabbed in a sexual manner, and 40 percent said they had felt forced or pressured to do something sexually that they did not want to do.
In March 2017 the Crime Survey for England and Wales (CSEW) estimated that 20 percent of women have experienced some type of sexual assault since the age of 16, and around 5 in 6 victims (83 percent) did not report their experience to the police.
Local police recorded crime data has also revealed that there were 1,209 recorded sexual offences in Newcastle in 2016/17, this is a rate of 4.1 per 1,000, a significant increase since 2014/15.
Police and Crime Commissioner, Kim McGuinness, fully supports the #itsnotokay campaign and said: "This movement is about empowering young women and girls and giving them the confidence to challenge and speak out. Whether it's disrespectful, intrusive or abusive behaviour – it's all wrong.
"It's so important to me that young girls feel equal, in control and above all, safe. I want victims to be aware of the help and support available to them through fantastic organisations like Streetwise who I will be working very closely with in the coming months."
Mandy Coppin, CEO at Streetwise Young People's Project, said: "Our #itsnotokay campaign is about raising awareness to help stop our girls and young women from being sexually assaulted. It is critical that we do everything we can to continue providing essential support services for those young people who need help following a sexual assault.
"Our message to those on the receiving end of sexual harassment or witnesses of assaults, who are sometimes as young as 12 years old, is to 'see it, report it, and stop it'. If you see someone or are a victim of sexual assault, it's important to report it to someone who can help. This may be a teacher, a parent, a sibling, the police, or anyone who you feel safe speaking to. The more reports that are made we believe will help to bring an end to unwanted sexual attention and sexual assault."
Streetwise will be carrying out a range of activities throughout the 16-day period. All staff will be wearing #itsnotokay T-shirts everyday, which are also be available to purchase, and there will be drop-in sessions for young people to learn more about healthy/unhealthy relationships and pledge their support. The building will be decked in Orange to mark the start of 16 days of activism.
If a young person has experienced domestic or sexual violence, contact Streetwise on 0191 230 5400 or drop in to speak to a specialist for support.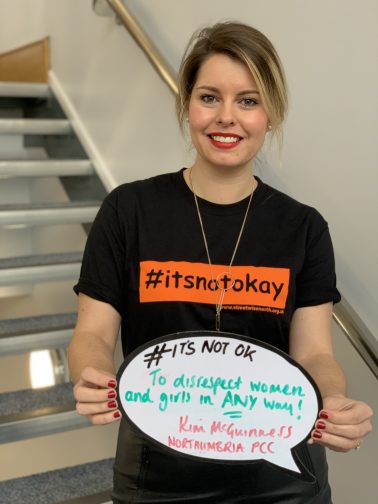 ENDS