Northumbria Police is backing 'Wear Red Day'
20th October 2016
Northumbria Police and Crime Commissioner, Vera Baird QC, and Chief Constable Steve Ashman, will be wearing something red this Friday (21, October) to support educational charity Show Racism the Red Card (SRtRC) as it marks its 20th anniversary of standing up to racism.
They will be joined by officers and staff who will be backing the campaign by adding a touch of colour to their outfits with red items such as socks, shoe laces or scarves.
'Wear Red Day' is a national campaign that will see supporters from up and down the country dressing in red and donating a £1 to help raise funds to deliver education in schools on the impact of racism within football and society as a whole.
PCC Vera Baird QC, who is also Chair of the Association of Police and Crime Commissioners, said: "Show Racism the Red Card is a great campaign which teaches children right and wrong with regards to racism – Wear Red Day gets my 100% support. It is my hope that through initiatives like this we can wipe out racism once and for all. I'm proud that the North East is a welcoming place, we will continue to work hard to tackle racism when it occurs."
Chief Constable, Steve Ashman, said: "Northumbria Police wholeheartedly supports any initiative to combat racism and I hope to encourage anyone who is a victim of racism, or who witnesses a racist incident, to contact us so we can take firm action. I've said it before and I'll say it again, hate crime in any form, is not acceptable and will not be tolerated by Northumbria Police."
For more information about the awareness day and ways to donate, visit http://www.srtrc.org/get-involved/WearRedDay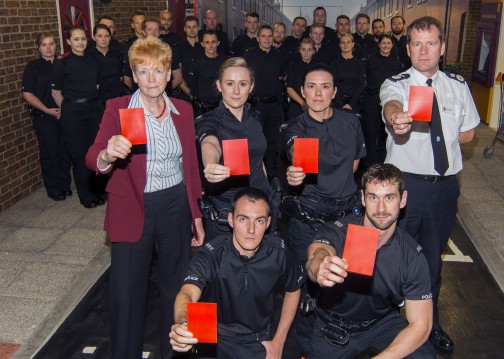 Photo:  PCC Vera Baird QC and Chief Constable Steve Ashman along with new recruits 'showing racism the red card'