Outstanding work by NERSOU team, praised by PCCs across the region
12th July 2016
The North East's Police and Crime Commissioners (PCCs) have presented two members of the North East Region Special Operations Unit (NERSOU), with certificates of excellence in recognition of their outstanding service to victims of fraud.
DC Shaun Frody and analyst Helen Walker from Northumbria Police were praised in a letter to the PCCs in which a member of the public highlighted the excellent service her mother had received, after being targeted by criminals as part of a country-wide fraud scam.
The letter of thanks acknowledged the importance of our police in helping victims who are stressed and anxious about the crime they have experienced. It also commended the actions of individuals from NERSOU saying the service she encountered was unfailingly courteous and helpful and that she was kept updated on developments which led to the sentencing of those responsible.
Earlier this year, six men were collectively sentenced to more than 40 years in relation to the scam. This followed successful linked operations by NERSOU, Yorkshire and Humber Regional Organised Crime Unit, and the South East Regional organised Crime Unit.
Northumbria Police and Crime Commissioner, Vera Baird, said: "I wish to congratulate Shaun and Helen, not only for the part they played in this excellent national police operation but for their dedicated approach and going that extra mile. I am committed to ensuring that our officers put victims of crime at the heart of everything they do, ensuring they get they get the best service possible and receive appropriate support. These officers have got it absolutely right and fully deserve this recognition and praise.
"Those responsible were purposely targeting vulnerable people, subjecting them to terrible threats and abuse – behaviour that's absolutely unacceptable. It's thanks to the work of people like Shaun and Helen that victims are given the support and confidence they need to cope and recover from this terrible experience."
Durham Police and Crime Commissioner, Ron Hogg, said: "I am really pleased that other potential victims of these fraudsters will not suffer, thanks to the actions of Shaun and Helen. Fraud can be a very invasive crime, affecting people's mental health as well as being a type of theft. Anyone who experiences fraud should report it to the Police, who will take it very seriously. Alternatively, people can report fraud to www.Actionfraud.police.uk."
Cleveland Police and Crime Commissioner, Barry Coppinger, said: "Well done to all those involved in bringing these offenders to justice, and especially to Shaun and Helen. This is a great example of police work at its best and shows just how much becoming a victim of crime can affect someone's life. I hope that this victim can now move forward with her life and hopefully this work has prevented other people from being targeted by these criminals."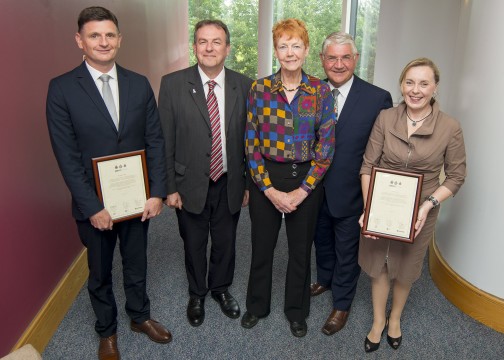 PHOTO (L-R) DC Shaun Frody, PCC Barry Coppinger, PCC Vera Baird QC, PCC Ron Hogg and analyst Helen Walker