Praise for Harton Academy making PPE visors to help keep frontline workers safe
24th April 2020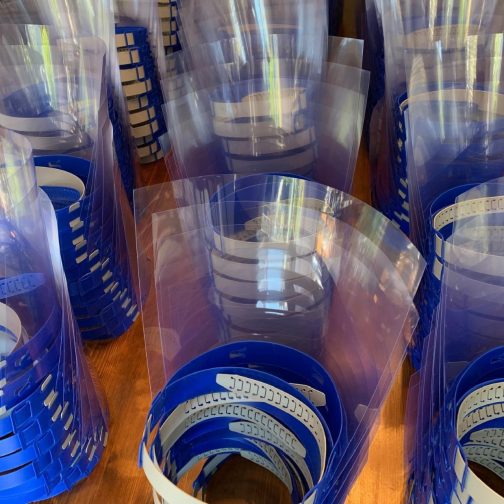 Kind-hearted Design and Technology staff at Harton Academy in South Shields have handed over 1000 pieces of Personal Protective Equipment (PPE) to local beneficiaries including Northumbria Police – a donation praised by Police and Crime Commissioner, Kim McGuinness.
While school children are busy studying at home, the Design and Technology workshop has been put to good use with staff working round the clock producing full-face visors to help keep frontline staff safe during the current health crisis.
The school's busy production line has donated its first batch of protective equipment to care homes and hospices across the region and is calling on other healthworkers who are in need of protection to get in touch.
Northumbria Police and Crime Commissioner, Kim McGuinness, said: "Our heartfelt thanks go to everyone from Harton Academy who has dedicated their time and of course their talents.
"It's vital that our police are properly protected and wearing this equipment provides reassurance to those they come into contact with. This is an amazing initiative and we are incredibly grateful."
Sir Ken Gibson, Executive Headteacher at Harton Academy, said: "We've all seen the headlines about PPE and how great the demand is. As a school, we are delighted to be able to do our bit for the community and help frontline workers in this way – it's our way of saying thank you. It's all part of the fight against Coronavirus and I'm proud incredibly proud of our Technology staff and some student helpers who have put their skills to great use."
For further details please contact: treis@hartonacademy.co.uk