Prudhoe police move to community base
27th November 2017
Police in Prudhoe have re-located to a new community base today (Monday, November 27) at the Spetchells Centre in the town.
Neighbourhood officers now have a public enquiries desk on the ground floor of the Centre, which is open Monday to Friday, from 9am to 5pm, the same as the old station. The team also have office space for their use on the first floor.
The new base on Front Street in the town is a short distance from their old station on the same street. Spetchells Centre is a busy community hub and also houses other local services including the Library run by — Active Northumberland, Prudhoe Town Council, Citizens Advice, Northumberland County Council Revenues, Karbon Homes and West Northumberland Food Bank. It is owned and managed by the Prudhoe Community Partnership, a regeneration charity.
This move demonstrates the commitment of Northumbria Police and Crime Commissioner, Dame Vera Baird QC, to ensure police officers are accessible and based close to the communities they serve. All savings made from the move will be reinvested back into policing.
Northumbria Police and Crime Commissioner, Dame Vera Baird QC said: "When I was elected as Police and Crime Commissioner, I promised to keep officers in the heart of the community – our new police base in Prudhoe does exactly that, it ensures visibility and offers reassurances. By being located in Spetchells Centre, we have far lower running costs and every single penny saved is reinvested back in to policing – I'm committed to Neighbourhood policing and will continue to do all I can to protect the service".
Northern Area Command Chief Superintendent Sharon Scott said: "This new base is in an ideal location alongside other essential services which local residents regularly use. This makes it easy for people to visit the police public enquiries desk if they need advice or to speak to an officer. "
George Hepburn, Chair of Prudhoe Partnership, said: "We are delighted to welcome Northumbria Police to work alongside other colleagues all providing a one stop service to the people of Prudhoe in modern facilities in the heart of the town."
Now the neighbourhood team have relocated, the old Prudhoe police station will be put up for sale with proceeds from any future sale being put back into policing.
Local Neighbourhood Policing Teams can be contacted on 101, via the Northumbria Police website, www.northumbria.police.uk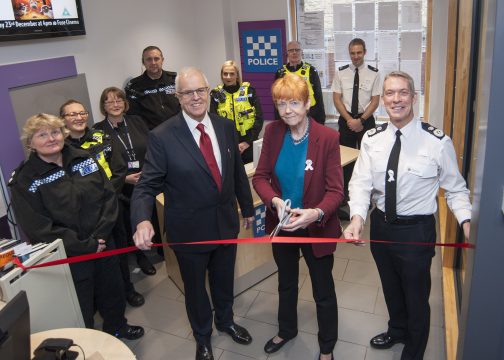 Pictured: Front row left to right Neighbourhood Inspector Pam Bridges, George Hepburn, Chair of the Spetchells Centre, Northumbria Police and Crime Commissioner Dame Vera Baird QC and Temporary Chief Constable Winton Keenen. Back row members of the Neighbourhood Policing Team at Prudhoe and (far right) Superintendent Andy Huddleston.