The search is on for dog-loving volunteers
11th March 2021
Northumbria's Police and Crime Commissioner, Kim McGuinness is on the lookout for dog-loving volunteers to help ensure police and fire service dogs are being treated correctly.
Volunteers will make unannounced visits to kennels to observe, comment and report on the conditions that Northumbria Police and Tyne and Wear Fire and Rescue Service dogs are housed. They'll also view outdoor dog training sessions.
It's part of Kim McGuinness' new Police Dog Welfare Scheme which will check the welfare of dogs in Northumbria Police and Tyne and Wear Fire and Rescue Service.
Kim said: "Police dogs are a hugely valuable part of our police family here in Northumbria, communities know the value they bring to policing and the fire service and the support they give to police officers and fire fighters.
"My role as Police and Crime Commissioner is to hold Northumbria Police to account on behalf of the public and ensure all of their departments are performing to a high standard, including the police dogs. As we work closely with the Fire Service, we have been able to extend the welfare checks to the fire service dogs.
"The welfare of our dogs is of paramount importance and it's important that we have independent checks in place to ensure animal welfare standards are robustly maintained. The Dog Welfare Visitors will act as 'critical friends' providing me with independent and invaluable feedback to ensure our dogs are properly cared for, happy and their working conditions are acceptable.
"I know there will be many local residents with the experience of animal welfare to support this exciting scheme. Our Dog Welfare Visiting Scheme has been established with advice from the brilliant Dogs Trust. The visitors will make a real difference, their feedback will deliver change."
Superintendent Sam Rennison, of Northumbria Police's Operations Department, said: "The welfare of our police dogs is of paramount importance to us and we work every day to ensure they are looked after.
"They dedicate the majority of their lives to keeping the public safe and have a special bond with their handlers that goes beyond that of just a family pet.
"But we welcome opportunities to have our working practices scrutinised so we can make sure we continue to ensure every animal in our care is being looked after to the highest standards."
Group Manager Andy Lillford, Head of Resilience at Tyne and Wear Fire and Rescue Service, said: "Our search and rescue dog is a vital member of the team and a true asset to the Service. They help to protect and keep our communities safe, and are trained to work in the most arduous conditions including under collapsed buildings, in confined spaces and working at heights.
"The welfare arrangements of both the animal and the dog handler is of great importance with the handler being highly trained in all areas of dog welfare and animal first aid.
"The working relationship between our search and rescue dog and its handler is second to none. They know each other's traits, skills and limitations. Our team at Tyne and Wear Fire and Rescue Service look forward to playing a key role in the new Police Dog Welfare Scheme and making it a success."
Interested? Want to know more? Drop us an email with your CV and a few paragraphs about what experience you can bring to the role. Let's start a conversation and by working together we will make a difference. Email us at enquiries@northumbria-pcc.gov.uk and we'll be in touch.
Closing date for expressions of interest is 30th April 2021.
Note:
To apply for this volunteer role, you must be over 18 and live or work within the Northumbria Police Force Area. You will need to have access to a car as the kennels are located in shared premises in Durham. All successful applicants will need to undertake vetting clearance.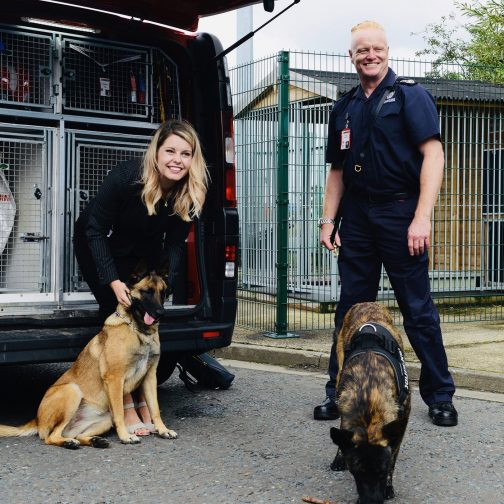 ENDS