Six north-eastern police forces win Home Office funding to tackle domestic abuse on a regional 'whole system approach'
5th October 2017
Northern Police and Crime Commissioners have welcomed news that an innovative project, first developed in Northumbria, by PCC Vera Baird, has received almost £7M funding to tackle domestic abuse.
The project will now be piloted across the north eastern region with six police forces involved in the initiative.  This is thanks to a successful joint bid to the Home Office's Police Transformation Fund.
The project called 'A Whole System Approach' began last year and will now become operational across the north east and in Yorkshire and Humberside.
The project, developed with specialist domestic abuse charities and agencies has three central strands, the first focusses on boosting police training about coercive control, effective development of strong court files to aid prosecutions and close partnership working with the Criminal Justice System. The second strand aims to improve information sharing and victim support across the criminal, civil and family courts, to avoid cases from falling through gaps and any risk of vulnerable victims being failed by a lack of supporting resource in the non-criminal courts .The third strand covers multi-agency victim support and strong and innovative perpetrator management, ensuring significant consequences for perpetrators.
The project has won funding for three years and it is planned that West Yorkshire, North Yorkshire, Humberside, Cleveland, and Durham forces, with Northumbria will develop a regional Violence Against Women and Girls and Domestic Abuse Strategy, 'wrapped around' this funded project, which will be the first ever whole-region strategy and will lead to strong mutual learning and close collaboration both in policing and across partner agencies.
PCC QUOTES
Northumbria Police and Crime Commissioner, Dame Vera Baird QC, said: "All our highly successful north eastern police forces have officers with domestic abuse expertise but we recognise the need to reach out to other experts. That reaches from people who specialise in educating young people about relationships, training professionals in other fields better to understand domestic abuse, those who can help prevent abuse and support victims and those who deal effectively with perpetrators. We are pleased that we can also set about improving inter-court relationships for the benefit of complainants and speedier justice."
Ron Hogg, Police, Crime & Victims' Commissioner for County Durham and Darlington, he said: "We welcome being part of this collaborative approach that has already proven successful in protecting victims and targeting the most harmful and serious perpetrators."
Police and Crime Commissioner for Cleveland, Barry Coppinger, said: "Cleveland has had one of the highest domestic abuse incident rates in the country. We welcome this opportunity to develop and strengthen the partnership working in our area and across the North region. We will use innovative, multi-faceted ways in which to tackle this harmful, wide scale, and costly issue, and to deliver a better service for victims."
Humberside's Police and Crime Commissioner Keith Hunter, said: "I fully supported this bid to develop a regional approach to dealing with this pernicious issue and I am delighted it has been approved. Regional approaches can be useful when building upon local delivery and not intended to replace it. This will strengthen our ability to tackle the problem."
West Yorkshire's Police and Crime Commissioner, Mark Burns-Williamson, said: "Tackling domestic abuse is of vital importance and this innovative regional collaboration is essential to ensure services are improved for people in our communities across our region. We will build upon the work we are doing in West Yorkshire with all our neighbouring forces and our partners as we need a truly joined up and systematic approach to dealing with these crimes. I look forward to working together and ensure we are all doing all we can to ensure victims of domestic abuse and sexual violence are supported."
NORTHUMBRIA QUOTES
Northumbria Police Assistant Chief Constable, Darren Best, said: "Domestic abuse and tackling it has been a priority for our force for some time and this project illustrates our commitment to building on our efforts. We've listened to victims and have responded to them with a joint approach and are pleased that our ambitions to grow this and help even more victims can be realised with this funding."
Clare Phillipson, Director of Wearside Women in Need, said: 
"Our organisation always starts by listening to the people we deliver services to and most innovation and good practice comes from responding to the need and delivering what people want. We're glad Vera Baird and Northumbria Police have reached out to us, as experts, and devised an approach that considers the whole picture and that, with this funding, it can be built on to improve and even save the lives of more victims."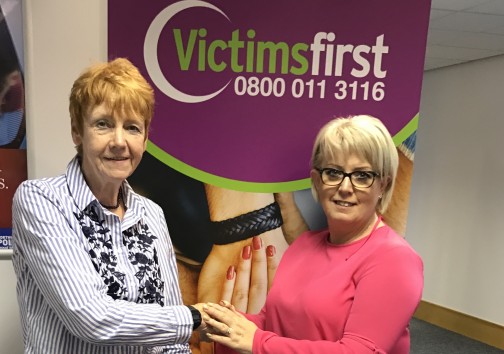 Photo: Victims' Commissioner Baroness Newlove congratulating Dame Vera and the other five PCCs on their successful joint bid for funding to tackle domestic abuse across the north east.